Tournai, Belgium – 4th September 2015
notélé, a Belgian local broadcaster equips its journalists with the Dejero LIVE+ Mobile app.
notélé has installed the application Dejero LIVE + Mobile app on its journalists' smartphones. LIVE+ Mobile App is an iOS application developed by the Canadian company Dejero which allows live video broadcasting from almost anywhere. The application is designed for journalists and is ideal for covering breaking news, interviews and unexpected live events.
"We were attracted by the quality of video transmission and functionality of the application. Our journalists do not need training and can start a live transmission by the push of a button of the LIVE+ Mobile App. " Stany Tevesz – Technical Director notélé.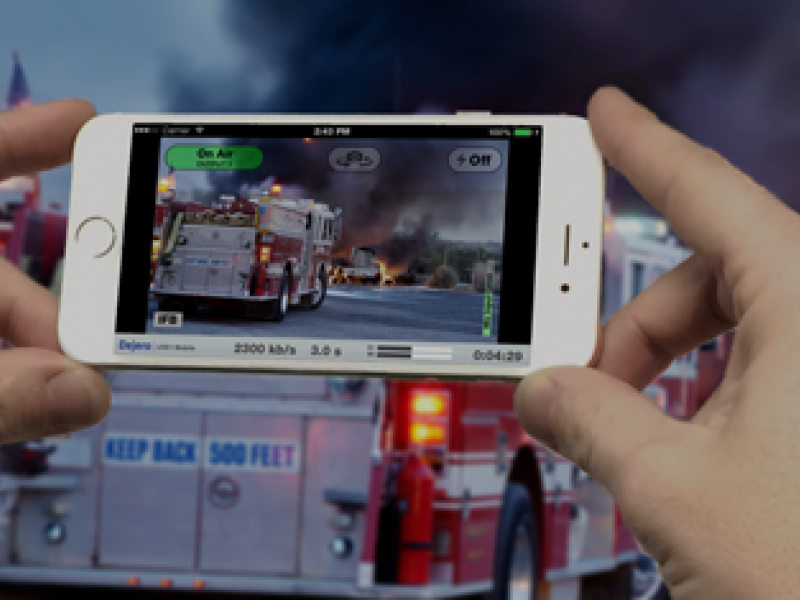 With the help of a smartphone or tablet and the LIVE+ Mobile app, Broadcasters may dramatically increase the number of video sources and start broadcasting live in seconds. Dejero simplifies the capture, transmission, management, and live streaming of high quality video via a set of technical means consisting of transmitters, software, virtualized tools and broadcast servers.
This platform manages and aggregates the signal via multiple connections (3G / 4G / LTE, Wi-Fi, Ethernet or satellite) to provide the best image quality while the transmitters are set up very quickly and are easy to use.
On the infrastructure side, notélé can at any time see the availability of sources via the Dejero Live+ Platform. notélé has a broadcast server enabling them to broadcast two lives simultaneously.
"We wanted to invest in a system that could evolve in the future. The fact that in addition to the iOS app, Dejero brings together under one interface a set of broadcast solutions such as suitcase or Eng camera modules sealed our choice. " Continues Stany Tevesz – Technical Director notélé.
Notélé is a local broadcaster available via Proximus and VOO, active in the Wallonie Picarde region. This region represents the crossroads between Lille and Brussels, and between Kortrijk and Mons. notélé covers 23 towns from Comines to Enghien, via Mouscron, Tournai, Ath, Lessines, and from Mont de l'Enclus to Bernissart. This concerns 350,000 potential viewers.
Dejero is distributed in Belgium and Luxembourg by TEVIOS – Broadcast & Telecom Solutions.
TEVIOS helps companies active in the Broadcast, Telecom and Media sector with a portfolio of innovative solutions and cutting edge technology, helping them to meet their current high requirements and specificities.
https://tevios.eu/wp-content/uploads/2015/09/logo-notele_1.jpg
1398
1397
admin
http://tevios.eu/wp-content/uploads/2019/10/tevios-340x66space.png
admin
2015-09-09 16:12:50
2015-09-09 16:22:32
notélé chooses Dejero LIVE + mobile app for its journalists.